If you're looking for an online marketing consultant to help you discover the money-making muscle of content and internet-marketing, you've come to the right place.
Click on the image below to view the Internet Marketing Machine video: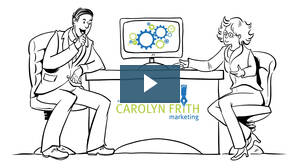 We can create compelling content for you that boosts your website in the search engine rankings, grabs your web-visitors' eyeballs, magically converts online visitors to leads, and brings them to you when they're ready to buy.  We use an online-marketing formula proven to slash your lead-generation costs, shorten your sales cycle and work around the clock. Read about it in our free e-book:  How to Transform Your Website into an Internet Marketing Machine. Online and Content Marketing Program Our Internet and content marketing program includes:
An engaging website chock-full of tasty tidbits for your target prospects and clients.
Trust building lead magnets, such as e-books and webinars served up on clean, irresistible landing pages.
Frequent blog posts to keep your web-content fresh, demonstrate your thought leadership, and lure people (and search engines) back again and again.
Social media to spread your message far and wide.
A series of emails that go out automatically after your leads are captured.  Each is woven with time-tested persuasive techniques that pull your reader towards your desired objective.
Complete analysis of each cog in your marketing system to learn what's working and what's not so we can optimize it until it runs like a well-oiled machine, producing leads, clients and customers like clockwork.
Use of traditional techniques as necessary to complement your online marketing program.
How do we do it? We assemble a top-notch team custom-picked to implement your internet marketing plan—not just whoever is hanging around the office. It includes designers, web developers, photographers, videographers and more. And we base every step of our process on years of experience.
Carolyn Frith has over a quarter-century of corporate marketing experience that she is now using to help small and medium-sized companies to grow. At Robern, a division of Kohler Company, Carolyn Frith increased brand awareness by 49% in just two years, and market share by 69% in three years. She can do it for you too.
Think about it. What would your sales be like if you increased your market share by 69%?
"Carolyn is results driven. A true asset to any marketing team," Kari Wimmer, Communications, Kohler Company. Learn more about how Carolyn Frith Marketing's online marketing consultant services can boost your results.
For your FREE 30-minute consultation CALL NOW at 610-340-0622 . Or email cfrith@carolynfrith.com. © Carolyn Frith Marketing, LLC, 2011.